STYLE
Meet The Founder: Gwendolyn R. von Rahn of Heads of State Hat Co.
An Introduction to Gwen Rahn of Heads of State, the creater of the exclusive SHOPPES x Heads of State Felt Hat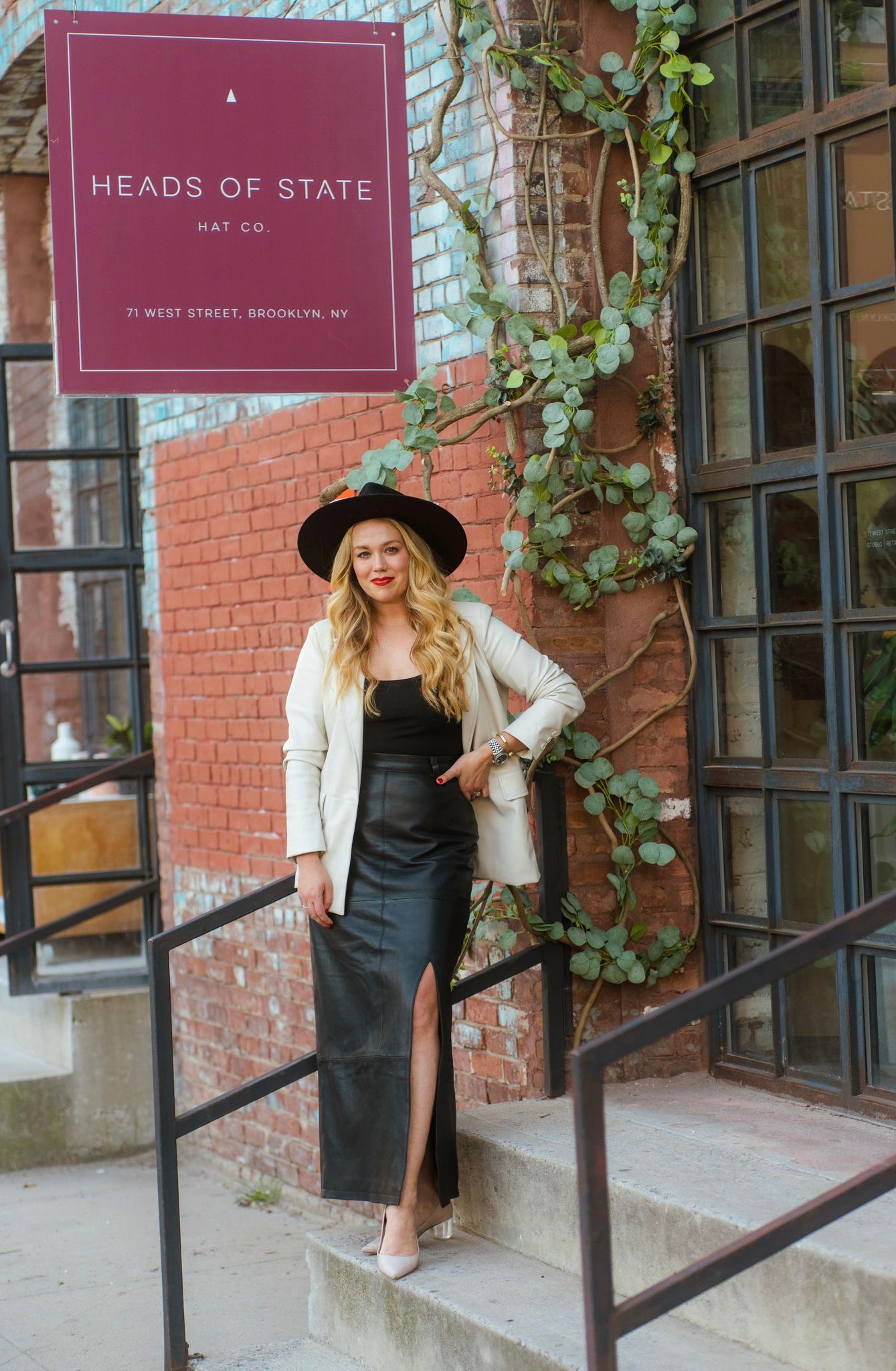 PHOTO: Heads of State
Welcome to the Founder Feature series, where we introduce you to some of the incredible entrepreneurs behind our favorite brands that make an impact on the world and in your closet. Today, meet Gwen Rahn, founder and CEO of Heads of State Hat Co, a female-owned, modern, made-to-order hat company based in Brooklyn, NY. Gwen founded this brand when she realized she wanted to find a way to create high end, quality hats at reasonable prices. In addition to her passion for creating beautiful products, she is committed to doing good in the world by donating a portion of sales to and dedicating her time to serve on the board of the Melanoma Research Foundation. Keep reading to learn more about who Gwen is, the origin story of her brand, and why she is so motivated to give back.
What inspired you to create a hat company?
There is a saying that how a hat makes you feel is what a hat is all about, and that is exactly my intention behind launching Head Of State Hat Co. We're a modern made-to-order hat brand set out to instill confidence through the medium of a customized accessory.

I launched Heads Of State Hat Co. in January 2021 in Brooklyn, NY. After years of being a (very) educated consumer in the hat space, I struggled to find high-quality hats at a reasonable price. I was willing to pay a premium for the quality of a craftsman product but the hat market was very antiquated and I was offered either cheaply made mass-manufactured options or custom hats at a $1000+ price point, which seemed egregiously out of touch.

In starting this brand, I set out to solve my own problem as a consumer on a trending product that was clearly coming back into the spotlight. I believed a high-quality, personalized accessory shouldn't cost a fortune. The hat industry was ripe for some fresh perspective, it wasn't marketed well, and it consisted of very few modern players, so I took the leap.
"There is a saying that how a hat makes you feel is what a hat is all about, and that is exactly my intention behind launching Head Of State Hat Co."

Tell us about the origin story of your brand's name.
The "head of state" is the leader, the boss, the one who commands attention and respect in a room. They are the ones who embody a group of people or a purpose and strive to unite all in their realm. It's a position of owning your power, knowing your worth, and exuding your confidence, all of which are pillars of our brand. In calling our brand "Heads Of State Hat Co," we specifically wanted to foster a community of these like-minded individuals and collectively create a new generation of hat-wearing leaders. We are all part of the Heads Of State.
We love the "gives back" element of your company. Tell us more about why you chose to support the Melanoma Research Foundation. What other causes is your brand involved with?
I deeply believe that every company out there should set out to do some good and to give back in any way they can. It's important that we, as a brand, rally around something other than ourselves or our products or services. That intentional commonality is integral to the bigger picture of our business. For us, that rallying cry is finding a cure for melanoma. Heads Of State Hat Co. was launched in the honor of two incredibly important women in my life — my grandmother and my cousin — who both lost their battle with melanoma. In their name, a percentage of every hat sale is donated to the Melanoma Research Foundation, a non-profit organization dedicated to the treatment and cure of melanoma cancer and other skin cancers. I also proudly serve on the board of the Melanoma Research Foundation planning committee in NYC. In 2022, Heads Of State Hat Co. raised more than $22k for melanoma research. I know my grandmother and cousin would both be proud of what I've built in their honor, especially because they both happened to love a great hat.
What does a typical day in the life of being a business owner look like for you?
I think most business owners — especially those in their key growth years — will tell you this is an impossible question to answer and very rarely is there continuity from day-to-day. With the opening of our new retail showroom just a few weeks back, I find myself in this space most days. Even on days when the store is closed, I still gravitate toward it because I'm so inspired by how intentionally it was designed. It feels like a luxurious living room instead of a retail store, which was exactly what I had imagined. The space inspires me. While my days look so different, I have made the conscious effort to dedicate blocks of time to my key business priorities through the week, which has been hugely helpful in staying organized and on-track with a small staff.
What's the most fun and/or most rewarding aspect of being a founder and business owner?
The feeling of watching a customer look at themselves in the mirror and get excited about the way they look in a hat is a sensation that I will never tire of. Playing a small role in helping someone feel more confident or see a more powerful version of themselves brings me immense joy. It's the intangible soul that is the momentum behind my business, and what I remind myself of to keep going when I run into the inevitable bad days.

We are also proudly a women-funded, women-founded, and women-owned business.
Coffee or Tea?
Coffee, always. An iced almond latte, if you have it.
Happy Place?
Sunset at Crow's Nest in Montauk, NY, with my husband.
Favorite thing to do on a Friday night?
There are very few things in life that I enjoy more than a glass of wine on a NYC rooftop on a summertime Friday with the people I love.
Favorite local spot near your store?
Chez Ma Tante in Greenpoint, Brooklyn. It's a quaint European-inspired hotspot and what I consider to be a near-perfect neighborhood restaurant.
Favorite snack?
When it comes to Jelly Belly candies, I lose all self control. I can easily eat an entire bag in one sitting.
Any quirks?
I'm a voracious listener of audio books. It's the best way for me to get through my library of must-reads without having to dedicate 100% of my energy and attention to them. Since starting my business, I regrettably don't have too much free time to sneak away into cozy book nooks, so I satiate the desire for entertainment and learning with audio books. Walking to the subway? Listening to an audio book. In the retail showroom by myself during off hours? Alexa is playing me an audio book. Road trip to Montauk? You bet my husband and I have an audio book going. You'll very rarely catch me not listening to one.